My name is Stephanie Mitchell, and I'm so glad you stopped by! You've probably stumbled upon my site as you're looking for info on birth. You may be wondering- "Who is this chick writing all this stuff?"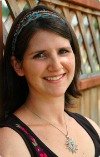 I'm just a fellow mama who's been in your shoes trying to navigate the waters of birthing options.
I've been passionate about childbirth since I was a little girl. I wanted to be an obstetrician when I grew up. Later, I decided that path wasn't for me.
Time went by and I let my passion for childbirth fall to the wayside. I went to college and graduated with a degree in Biology, planning to work in a lab.
Just before I graduated, my husband and I welcomed our first baby. Becoming a mom changed everything. After much prayer, I felt God was calling me to put my career aspirations aside and be home with my baby.
After our second baby was born, I decided to get certified as a birth doula so I could support women through the exciting time of pregnancy and birth. My doula work led me to create this site. Now, I can follow my heart and still be a full time mom.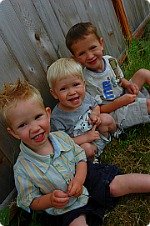 The experience and skill I gained in research during college has given me the knowledge to separate real research from opinion. This has led me to help other women find evidence based information on birth. I hope I can guide other pregnant mamas to make educated decisions which lead to their ideal childbirth experience, whatever that may be.
We welcomed our fourth little boy into our family in May of 2011. Each of my births has been very different. Two of my children have been born in the hospital and I've had one home birth.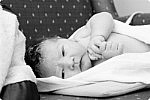 The fourth time around, I planned on giving birth at a birth center, but my baby had a different idea. My labor was so fast my husband ended up delivering our baby unassisted. What an experience!
I learn more and more each day about childbirth and how different each birth really is. Birth is as individual as we are. That's why I feel it's so important to know, first of all, that you have options, and what those options are. I support women to decide for themselves where and how they prefer to birth.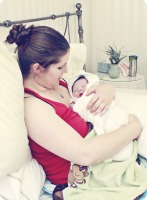 Aside from my work, I spend most of my time managing my blissfully chaotic home. I home school my oldest son, who is seven. After the kids are in bed, there's nothing I enjoy more than relaxing on the couch with my husband and a bowl of ice cream. We live in Utah, where we take advantage of the great snowmobiling in the winter and we love spending time at the lake in the summer.
I continue to stay up on birth research so I can always provide evidence based information. My goal is for women to be empowered to make their own decisions, without fear and misconception. You can rest assured that the information on my site is well researched.
I hope you've found a place you can find a lot of the information you're looking for. It's such a pain to look all over the internet for each piece of information! I hope you enjoy exploring your childbirth options here. Come back, and tell your friends too!

Return From Stephanie Mitchell to Home